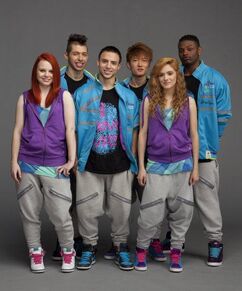 The winners of America's Best Dance Crew Season 6, IaMmE orginated in Houston, Texas but claims members from around the globe, including China and Czech Republic. Individually, these dancers have an impressive resume, including collaborations with past crews and proformances with Justin Bieber, Fat Joe, Cobra Starship, and All-American Rejects. The crew members all have different motivations -- making a better life for their families, fulfilling a dream, capturing the essence of a choreographer's piece -- but all agree they are ready to take on the role of America's Best Dance Crew.
---
Members
Phillip (PacMan) Chbeeb [[1]] also appeared in So You Think You Can Dance season 5.
Ad blocker interference detected!
Wikia is a free-to-use site that makes money from advertising. We have a modified experience for viewers using ad blockers

Wikia is not accessible if you've made further modifications. Remove the custom ad blocker rule(s) and the page will load as expected.